Strikes, Tactics and Institutional Space
20th November 2019
When we realised that our next session fell during the agreed dates of strike action, we thought carefully about whether or not to go ahead with our event. UCU members voted overwhelmingly in favour of a strike in ongoing HE disputes over casualisation, pay inequality, workload and pensions. It is usual to cancel departmental seminars in support of such action.

Not only do we support UCU's action and demands, we also feel that our seminar's aims are aligned with those demands in our resistance to neoliberal academia, its productivity model and its culture of overwork, precariousness and atomisation, as well as its entrenchment of inequalities.

In discussion with our speaker, Natasha Tanna, we decided to go ahead with the session, in collaboration with Trinity Hall MCR, reformulated as a teach-out, which considers some of the complexities of strike action in a Cambridge context, as well as broader questions. Natasha has come up with an inspiring set of questions and some thought-provoking reading - please see her statement below. Do get in touch through our contact page if you are not a member of the University of Cambridge and would like to be added to our Moodle group as a friend: all of our readings are available there.

Tactics and Praxis Teach-Out - Natasha Tanna

Institutional Space: Living Creatively in Collegiate Cambridge
(/what a live-in supervisor's "office" looks like seconds before students arrive)

In this teach-out I will share some personal reflections on the privileges and pressures of living, teaching, writing, and painting in my office as a College Teaching Officer.
In the context of the strike about issues including pay, pay gaps, working conditions and precarity (in which Colleges are not technically part of the dispute), I hope we can think together about some of the following questions:
Which aspects of ourselves do we reveal in academic spaces and which aspects do we hide? Why? How?
What is the effect of working in environments where boundaries between shared and private space and public and private self are blurred or non-existent?
How might we make time and space for guilt-free creative pleasure in institutional spaces and beyond?
When are Colleges and College-employed academics considered to form part of the University, and when are they not?
Music/Cinema/Life
21st October 2019
We began the year with a multi-sensory, thought-provoking session from Laura McMahon, who spoke about the intertwining of music, literature and cinema in her creative, personal and intellectual life. We listened to music by Broadcast and Laura's band, Red Red Eyes and watched scenes from Claire Denis' 35 Shots of Rum (2008) and Mia Hansen-Løve's Goodbye, First Love (2011), where pre-existing music is used to add dimensions of emotion and significance the the scene, its space, bodies and narrative.

As well as encouraging us to reflect on the flow of music that runs through our lives and might nourish our academic practice in unexpected ways, Laura's session also picked up on a theme that has run through many of our sessions, that of exposure. In Laura's case this exposure takes place through performing on stage as a musician (and wondering if students or colleagues will be in the audience), but many of us could identify the fear - and excitement - involved in the idea of our 'secret' creative lives being uncovered and revealed.
Tactics To Come
16th August 2019
We're busy planning and preparing for a second year of our seminar series, which will culminate in a conference in July 2020. We can't wait to share details of the programme, which is currently taking shape.

In the meantime, feast your eyes on a glimpse of Clare Danek's stitch journal, which she uses as a reflective tool in her doctoral research at the University of Leeds. We're delighted that she has agreed to participate in one of our sessions in the forthcoming academic year.

Find the dates of our sessions for your diary on our programme page.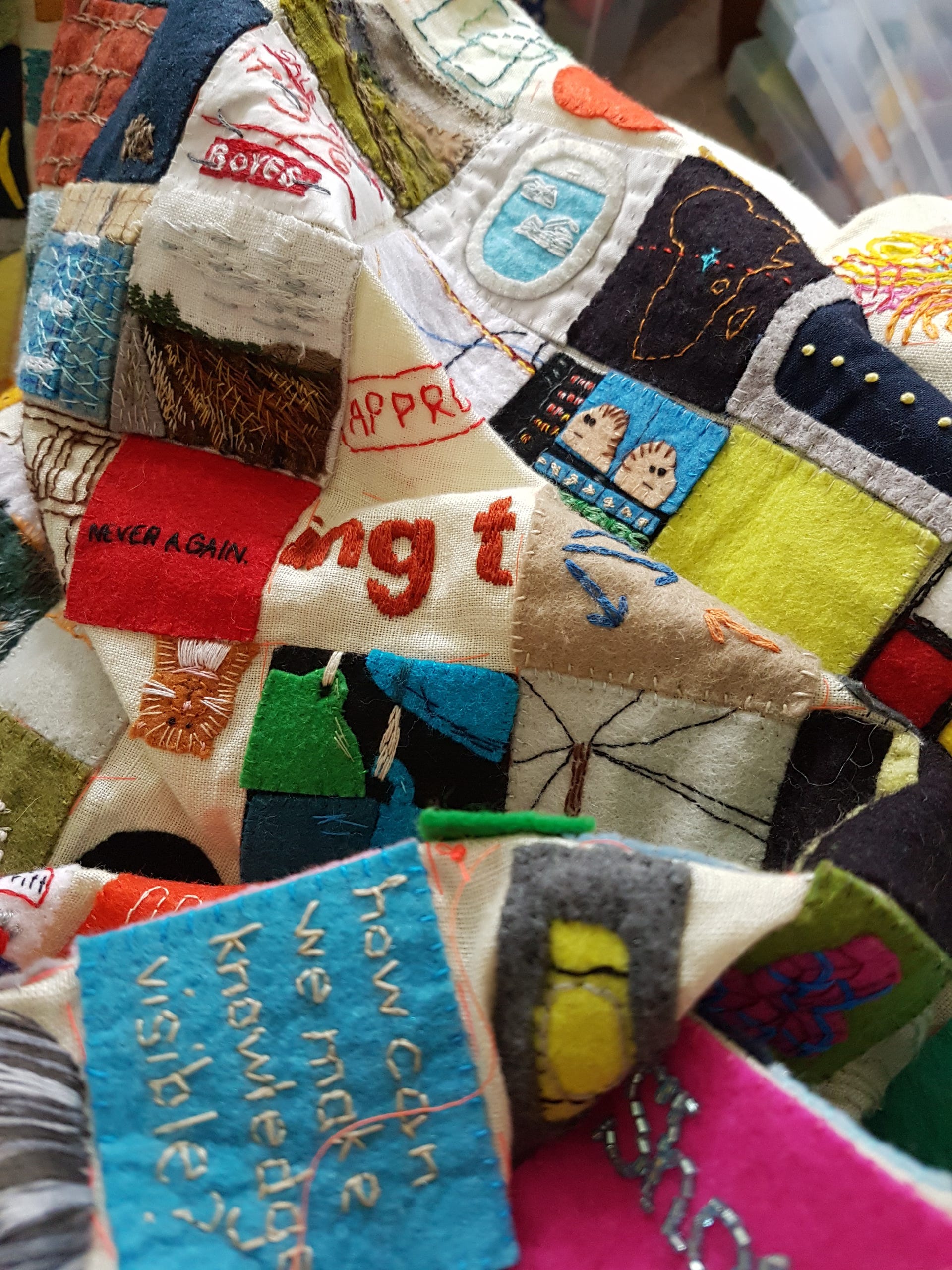 Ways of Feeling: Shreepali Patel and StoryLab
23rd January 2019
For a while now, we've been meaning to post brief reports on each of our sessions. We're kicking off with a few thoughts about Shreepali Patel and her inspiring session on her work with StoryLab (23rd November, 2018).

Shreepali told us (among many things) about the making of her film and multi-screen gallery work The Crossing. Evolving from a commission by Emma Thompson in 2013, the work grew out of a multi-screen exhibition and stands as an example of an artwork than can exist in different formats and spaces. Watching it for the session as an online short film demonstrated the power and immediacy that small-screen work can have. It offers an original and profoundly affecting way of presenting sex trafficking testimony.

The work makes unprecedented use of drone filming (illuminated in a further short film) to offer a non-human view of city space, a gaze that roves through and over the space in unfamiliar ways. This is constructed with images and evocations of the vulnerable human body. This is a poignant way of telling the story of a profoundly dehumanising experience.

Watching these works and hearing Shreepali speak about her work also offered a striking example of how creative practice can function as research on multiple levels. The Crossing experiments with filming technology and exhibition platforms to examine how new affective images might be created. This also forms an investigation into how testimony can be transmitted in ways that bridge the personal and collective dimensions.

The personal dimension of research has been a recurrent theme of the seminar so far. By situating The Crossing in relation to her protective feelings towards her daughter, wider concerns about human trafficking in India, and the increase in domestic and local trafficking in the UK and Cambridge, Shreepali also reminded us of the intersecting lines that connect us, as researchers, with the political and social dimensions of our research. This is something The Crossing illuminates, with its images of central London co-existing with a hidden economy of brutal sexual exploitation.

In the ongoing work of Tactics & Praxis, we want to continue to explore how research can value and illuminate individual, embodied and emotional experience while connecting it to a broader socio-political sphere.

On Doodling and Humming
10th January 2019
Catherine Grant has confirmed that in our first seminar of Lent Term, on 25th January (see the Programme) she will speak and show on a theme of doodling and humming. She has selected as a reading Claire Pajaczkowska's chapter "On Humming: Reflections on Marion Milner's Contribution to Psychoanalysis" in Lesley Caldwell's collection Art, Creativity, Living (London: Karnac books, 2007).

Catherine also encourages us to have a look at the book Pajaczkowska's essay speaks to and about, Marion Milner (Joanna Field)'s On Not Being Able to Paint (1950).

If you'd like to watch any of Catherine's videos before the seminar, you can find them here.
We're excitedly looking forward to an inspiring session on creativity - see you there!
Decriminalising Ornament
Friday 16th November, 2018
Anglia Ruskin University are hosting a 2-day conference (17th-18th November) and an exhibition (1-26th November) on Decriminalising Ornament.

This two-day research conference explores the nature of pattern and ornament within the context of illustration, printing and publishing and explores ideas and asks questions around its current state of appreciation, meaning and usage. Within the context of practice based research, international researchers, academics and practitioners will present their work and discuss their ideas.

Alongside the conference there will be a Research Exhibition, featuring a collaborative installation by the graphic designer Hansje van Halem and printer/publisherJan de Jong, as well as the research practice related to pattern and ornament of 13 contributing artists.
Nina Warmerdam, the IMPRINT project, 2013
Chaotic lives
Thursday 25th October, 2018
At lunch today, someone asked me about the 'optional extra' posted in our seminar programme after Katherine Angel's session tomorrow: a trip to the cinema to see The Chaotic Life of Nada Kadić. Would Katherine be speaking about it?

Well, no (though we hope she'll have time to join us!) Rather, this is intended to encourage us to take time out in the midst of a busy term to do something different, as a group. We are inspired by Maggie Berg and Barbara K. Seeber in The Slow Professor, when they argue that the academic workplace should and can be collectively shaped into a 'holding environment' (2016: 82). We are hopeful that activities can help to build a basis for new forms of collegiality and fellowship and plan to organise at least one further group outing during the academic year.

The film is a story of a life that feels chaotic, focusing on a single mother whose 3 year-old daughter is diagnosed on the Autism spectrum. With its vision of a woman trying to juggle multiple demands on her love, energy and resources and struggling to make it all hang together, it recalls Lauren Berlant's discussion of unraveling lives in what she calls, 'the crisis ordinary', when one, 'no longer knows what to do or how to live and yet, while unknowing, must adjust' (Cruel Optimism, 2011: 200). In this way the film speaks to our broader concerns about pressures we all face in the era of achievement and the 'burnout society', and the way personal lives are caught in broader, sometimes invisible, intersecting forces.
Stitched-up
Friday 19th October, 2018
Katherine Angel will join us next Friday (26th October) for our second session of the year. She will speak about the pitfalls of truth-telling about sex; why it's both necessary and impossible. And what this means for writing, for writing in the first-person, memoir, but also politics.
As well as sections from her book, Unmastered: A Book On Desire, Most Difficult to Tell (not as long as it looks and well-worth reading in its entirety!) we have put the Introduction from The Slow Professor up on Moodle. We also encourage participants to look at Louise Bourgeois' stitched fabric heads (see below). Katherine says: "They speak to me so much not just of self-silencing, but also of how closed discourse is - woven and stitched into itself, so that it's hard to see the exit point."

p.s. please contact us if you have any trouble accessing the Moodle site - we can add you as a friend if you do not have University of Cambridge access.
The adventure begins!
Monday 15th October, 2018
Thanks to everyone who joined us for our first seminar with the inspiring weaver/medievalist Kathryn Rudy on Friday. It was an exhilarating session that nourished the mind and the senses, and encouraged collaboration. The convenors are working on a report to summarise the multi-faceted event for anyone who couldn't make it. In the meantime, please follow us on Twitter (@TacticsPraxis) to continue the discussion online and keep updated with news about our next sessions this term.